1) Receive your dabbas (stainless steel tins)

Home Spice dabbas are delivered to your door weekly with four layers of home-cooked goodness, inspired by the flavours of South-Asia

2) Heat and enjoy

Home Spice is delivered to you cool, ready to heat and eat when you are. Keep your Home Spice refridgerated before popping in the oven to heat through and enjoy

3) Repeat every week

Home Spice is a subscription based service. Each week, leave your empty tins on your doorstep or in a safe place, and we will exchange with freshly cooked meals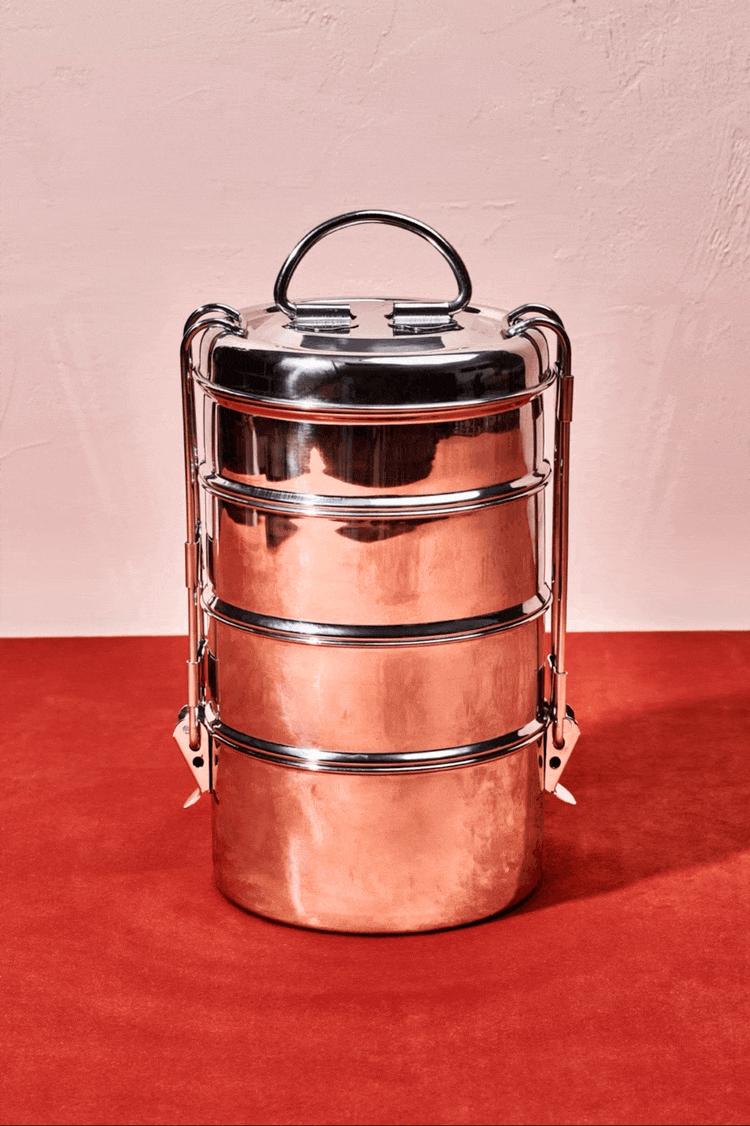 Home Spice is delivered in plastic-free tins
Inspired by the mumbai delivery service, Home Spice is delivered in stainless steel, reusable tins (dabba), a great alternative to the disposable or single use plastic that many ready to eat businesses use.
Each week, leave your empty tins on your doorstep and we will exchange them with a fresh meal, ready to heat and enjoy!
Learn More
Weekly menu calendar
Allergens: Dairy, Cashew, Almond

Allergens: Dairy, Almonds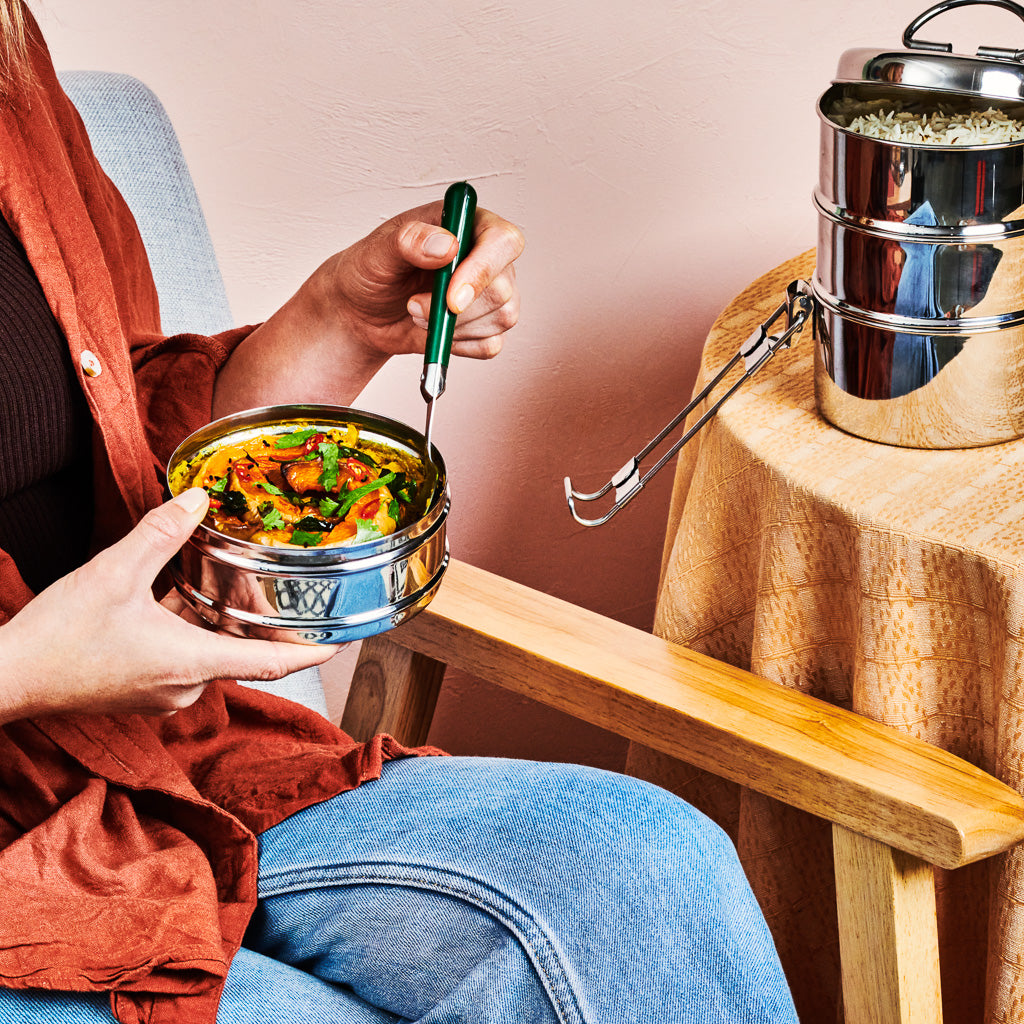 At Home Spice, our menu changes every week
Our menu changes every week to keep your tastebuds on their toes! We curate menus using fresh seasonal produce and protein-rich pulses, packed with vibrant and flavoursome spices.
Every Home Spice order includes Chutney's, Dal, Curry & Rice, plus the option to add roti.
Home Spice costs $24.50 per serving, plus additional extras (roti, wine). Each dabba has enough food for two.
Order Now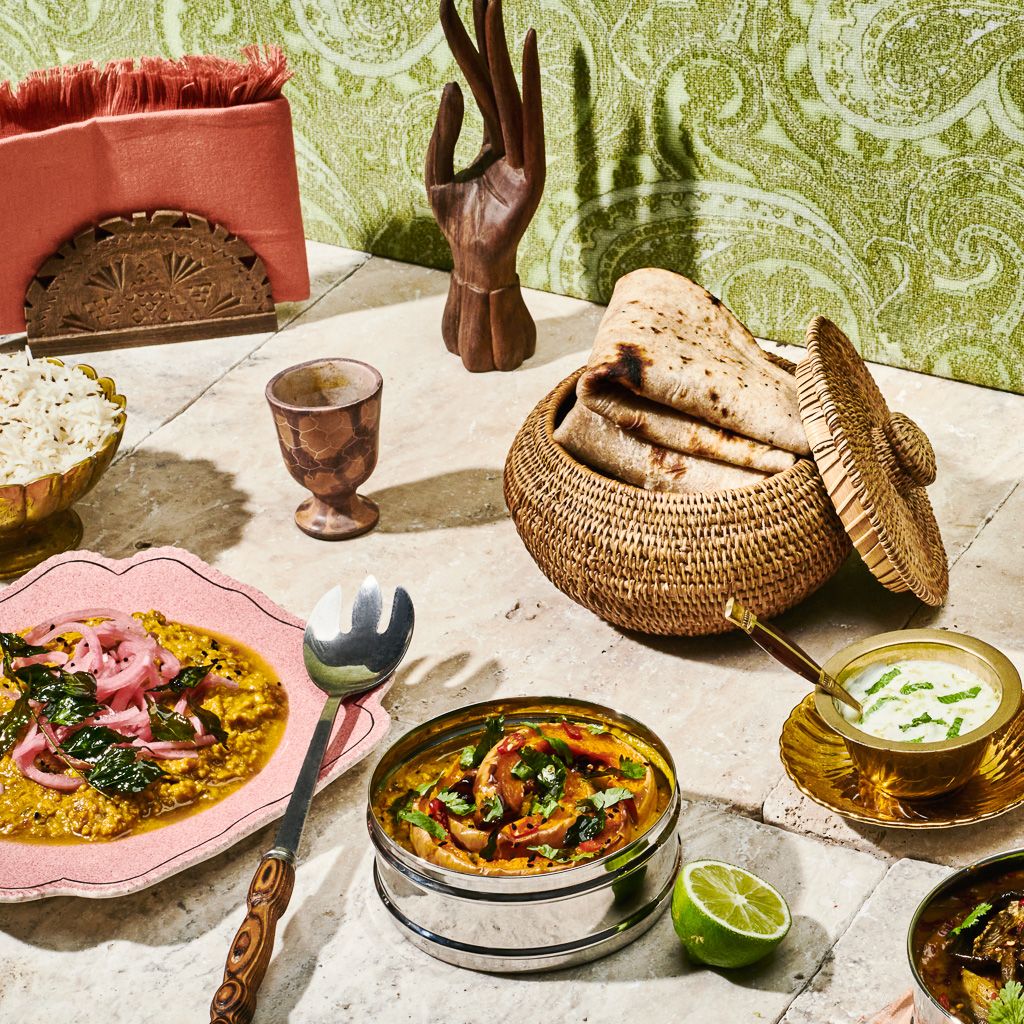 Vouchers & Care Packages
We're honoured to know that our meals are helping make someone's day a little easier. 
Explore our range of vouchers here:
Learn More
Common Questions
What is Home Spice?

Home Spice is your weekly, decision free dinner.

We deliver fresh, south-asian inspired meals to your door on a Tuesday. We're on a mission to help reduce disposable packaging and so Home Spice comes in reusable, stainless steel tins (also known as Dabba's) which are collected, cleaned, refilled and redelivered every week.

Our menu changes every week but it always consists of seasonal fresh vegetables, protein rich pulses, vibrant spices and flavour.
How much does Home Spice cost?

Home Spice costs $24.50 per serving.

Each dabba has enough food for two, and includes chutney, curry, dal and rice, all made with fresh, bold ingredients.

We also offer the option to add roti for $3.50, or weekly paired wine for $28.
What day of the week do you deliver?

Home Spice is currently delivered every week on a Tuesday.

We aim to deliver between 3-6pm, so you have it in time for dinner.

As we grow, we will be looking to expand to include additional delivery days.
Can I order a one-off order?

Absolutely! If you aren't quite ready to subscribe, we offer a one-time order, so you can see if Home Spice is right for you.

To do so, simply select trial when you checkout. Following that you can select other key information about your order.

For any further questions, please feel free to get in touch.
Can I pause my subscription

Yes! We understand that life gets busy and things crop up so we offer a flexible subscription.

You can add optional roti, pause or cancel your meal before the cut off time (midnight Friday) by logging into your account and updating us on any modification.
What areas does Home Spice deliver to?

We currently deliver to most neighbourhoods in Auckland. Click here to double check we deliver to your address.

If we dont yet deliver to you, subscribe to our mailing list to be the first to know when we expand to new areas.
Why do you use stainless steel tins (Dabba's)?

Sustainability is important to us, so to do our part in reducing waste, we deliver Home Spice in reusable stainless steel tins as opposed to single-use plastic.

Our fleet of stainless steel Dabba's are collected, cleaned, refilled and redelivered every week to our wonderful customers.

When you subscribe to Home Spice, you can enjoy your food knowing you're making a more sustainable choice.
Can I customise my order?

Each week we curate a fixed menu based on what is in season, nourishing pulses, and vibrant spices.

Every Home Spice order includes Chutney, Dal, Curry & Rice. The menu will change from week to week.

You can customise the number of people you are ordering for and if you would like to add Roti.
Can I eat Home Spice if I have food allergies?

Home Spice is vegetarian, and naturally wheat free (except for the optional Roti).

Common ingredients that we use include peanuts, tree nuts, and dairy.

We publish our menu for the following week several days prior which allows customers the opportunity to modify (e.g. skip a week) if required.

We work from a shared kitchen and therefore advise that there is opportunity for cross contamination.